Who am I?
I am Divya,a foodie at heart and a passionate cook.I love cooking and trying out new dishes in my kitchen.The joy I get from reading recipes and figuring out whether it would work or not and finally trying it out gives me an immense high.Every recipe published on this blog is tried and tested/tasted.
A li'l Background!

I was a complete novice in kitchen and just like girls my age,started cooking on my own after getting married.Boy,I was completely taken aback and saluted my amma for cooking up a variety of food day in and day out for us monster kids.I struggled to cook and we had similar looking/tasting food for days together.But slowly and steadily,I picked up the art.
My Lifeline!
Ajay,my husband has been a completely supportive partner to me in this regard.He kept giving me little tips and tricks here and there and I found myself enjoying my time in the kitchen.Moreover,anyone can take cooking seriously when the food they cook gets appreciated.The joyful look on people's faces when they eat my food,makes it all worthwhile.
My all-time love!
Baking is something I learnt sometime back and there's just no stopping me now.I love to see the glee on my loved ones' face when I bake a cake for them:).I've always loved writing and my food blog combines two of my passions-cooking and writing:).
What do I blog on Easycooking?
I blog about day to day recipes.Mainly Konkani food,in that too,a mix of Kochi Konkani fare and South Kanara[Mangalore]fare.With a dash of Kerala recipes and a bit of North Indian food too.Given my love for baking,some of my successful baking recipes would also feature now and then.
My Camera
I started blogging with no clue about food photography or rather photography in general.The initial pics were taken using my phone(then) W810i.I started using Fuji Fine Pix Z10 and then got myself a Canon Ixus 105.I am planning to get myself an SLR,all in good time.
I love collecting Cookbooks and am a proud owner of several baking books as well as books of cooking from other genre.Many of the recipes published here are from these books[always given credit],some from my Vanitha recipe collection,some from tv cookery show recipes and some from other blogs[with link to the original blog added].Traditional recipes from Konkani cuisine are provided by my amma and m-i-l.
Hope you enjoy your stay here as much as I've loved putting it across to you:). :). Thank you for visiting my blog and hope you would come back again!!
For Food products/Book reviews,contact me at divyakudua@gmail.com
----
Easycooking on Print Media!
Easycooking
was featured in
Economic Times.
My recipe for Palak Pathrodo was featured in Vanitha-March 1-15 edition.
My recipe for Ragi Neer Dosa was published on Hindu Metroplus.
Easycooking on Deccan Chronicle[Kochi edition]
Easycooking featured as one of the six most followed food blogs in Chennai on Indulge(Indian Express,Chennai edition) on May4th.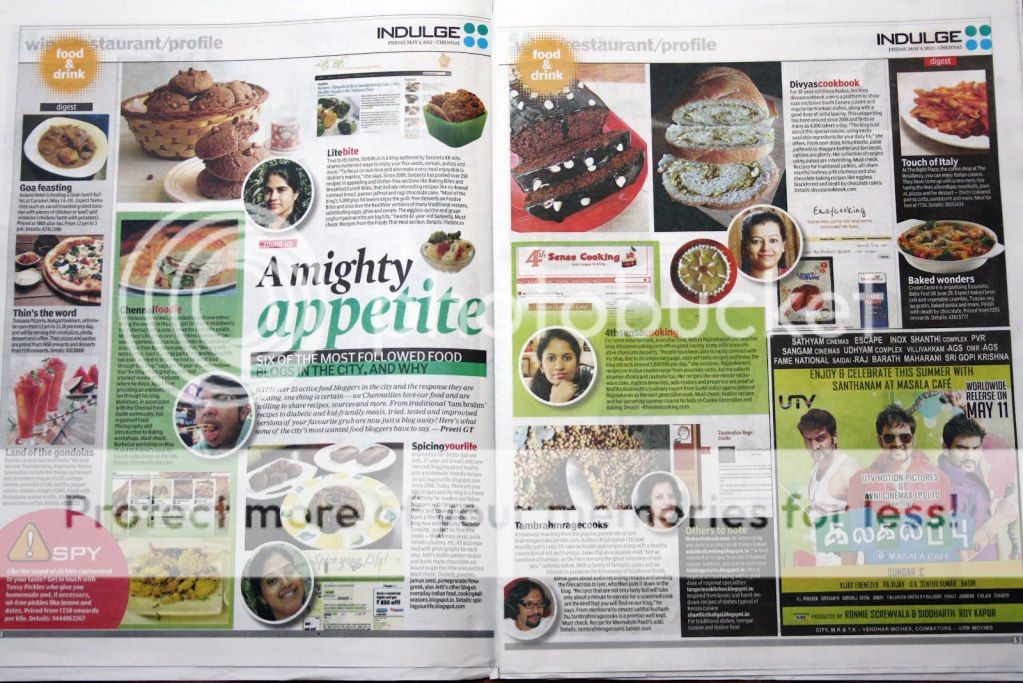 Much Love,
Divya.